Chinese |

Francais |

Espagnol |

Haitian Kreyol
After many
👏
😀
👍successful and triumphant world
🌎 tours in
🇹🇼
🇨🇳
🇳🇱
🇬🇧
🇸🇪
🇩🇪
🇲🇽
🇯🇵 to promote the 888 Lucky Beer
🍻 of Washington DC, many people who are craft beers
🍻 lovers
❤️ around the world said: "888 is a beautiful beer and the best IPA craft beer ever".
🌎🌍🌏 | China
🇨🇳 Taiwan 🇹🇼 Japan 🇯🇵
🌎🌍🌏 | United Kingdom 🇬🇧 Sweden 🇸🇪 Germany 🇩🇪
🌎🌍🌏 | Haiti
🇭🇹 Mexico 🇲🇽 Venezuela 🇻🇪 Ecuador 🇪🇨 Bolivia 🇧🇴 Peru 🇵🇪 Colombia 🇨🇴 Costa Rica 🇨🇷
🌎🌍🌏 | Angola🇦🇴 Benin🇧🇯 BurkinaFaso🇧🇫 Cameroon🇨🇲 Chad🇹🇩 Congo Brazzaville🇨🇩EquatorialGuinea🇬🇳 Gabon🇬🇦 Gambia🇬🇲 Ghana🇬🇭Côte d'Ivoire/Ivory Coast🇨🇮 Liberia🇱🇷 Mali🇲🇱 Mozambique🇲🇿 Namibia🇳🇦 Niger🇳🇪 Nigeria🇳🇬 Senegal🇸🇳 SouthAfrica🇿🇦 Togo🇹🇬 Democratic Republic Congo🇨🇬
888 Lucky Beer Press Conference in Tokyo, Japan
"People thought 888 Lucky Beer was a really good IPA says Allison"
Open Letter to the President of Congo Brazzaville, the First Lady, the Great People of Congo Brazzaville and the Continent of Africa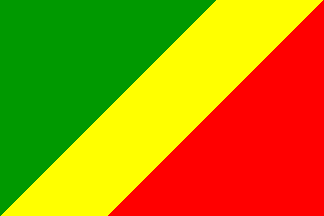 After many
👏
😀
👍successful and triumphant world
🌎 tours in
🇹🇼
🇨🇳
🇳🇱
🇬🇧
🇸🇪
🇩🇪
🇲🇽
🇯🇵 to promote the 888 Lucky Beer
🍻 of Washington DC, many people who are craft beers
🍻 lovers
❤️ around the world said: "888 is a beautiful beer and the best IPA craft beer ever".
The early history of Africa came before the four ancients recorded history of Indus, Mesopotamia, Egypt and China.
The fossil record from Africa shows Homo sapiens living in southern and eastern Africa at least 100,000 and possibly 150,000 years ago. Around 40,000 years ago, their expansion out of Africa which launched the colonization of our planet by modern human-beings did not come about in 8 seconds, 8 minutes or 8 hours or 888.
1. Angola
2. Benin
3. Burkina Faso
4. Cameroon
5. Chad
6. Congo (Congo-Brazzaville)
7. Equatorial Guinea
8. Gabon
9. Gambia
10. Ghana
11. Ivory Coast
12. Liberia
13. Mali
14. Mozambique
15. Namibia
16. Niger
17. Nigeria
18. Senegal
19. South Africa
20. Togo
21. Zaire (Democratic Republic of the Congo)
I am honored and excited to go back to the Mother Land of Africa to launch the first-ever American 888 Lucky IPA and 888 Pilsner Craft Beers Tours of 21 countries in Africa where the lineages of my ancestors have been identified.
Date of travel: To be determined
Location: To be determined
In retrospect, as a child growing up, I was always intrigued and fascinated by the Chinese culture and especially Kung Fu movies.
Hence, in February of 2015, I visited the beautiful country of China and spent a month in Chongqing. It was a dream that materialized just like a movie. The Chinese people were very friendly, hospitable, left a profound joy and admiration in my heart.
After experiencing the social lifestyle and the tradition of cheers, "ganbei" or 干杯 in China, upon my return in the United States of America (USA), I was inspired to start a craft beer company from a recipe I developed as a homebrewer.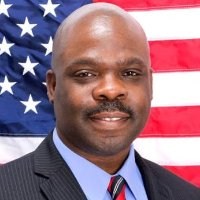 The style of beer that I developed is the American version of the British India Pale Ale or IPA. The IPA style is known for its strong hop character, dates to the 1800s and is the fastest-growing and best-selling style of craft beer in USA.
In memory and in reciprocity of the warm and heartfelt welcome that I received from the Great People of China, I would like to offer the following toasts:
I. First Toast or 干杯
Mr. President, First Lady and the Great People of Congo Brazzaville, please allow me to offer you an imaginary first toast or 干杯 of our 888 Lucky IPA and 888 Pilsner Craft Beers by raising my glass up but much lower than all of yours to show respect and wish you Luck, Wealth and Prosperity.
II. Second Toast or 干杯
It will be a great honor to personally offer you a second toast or 干杯 during my first visit to Congo Brazzaville to introduce the first-ever American 888 Lucky IPA and 888 Pilsner Craft Beers in Africa.
III. Third Toast or 干杯
I am offering a third toast to the Great People of Congo Brazzaville because I am certain that you will like, the 888 Lucky IPA named Best Tasting Beer in New York, USA and the 888 Pilsner whose recipe won Gold in Maryland, USA, which are Made in Washington DC USA by a descendant of your ancestors.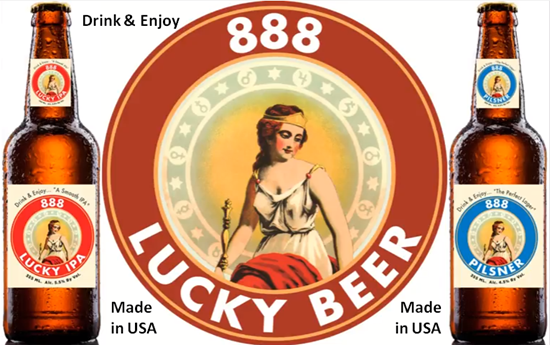 IV. Fourth Toast or 干杯
According to a Chinese proverb: "Hearing a hundred times is not as good as seeing once."
I am excited and cannot wait to visit and see with my own eyes the countries of my ancestors, greet and meet many of my brothers and sisters from the Mother Land of Africa which will be far better than ten thousand words can ever express.
Therefore, please allow me to offer you one last Toast or 干杯, I wish you once more, many years of Luck, Wealth and Prosperity or 888. Learn more at http://www.paugustin.com
Most Respectfully,

Pierre Richard Augustin, MPA, MBA
President and CEO, AdMerk Corp. Inc.
Lettre ouverte au President, La Premiere Dame et au peuple du Grand Congo (Brazzaville)
Selon les preuves de l'ADN et de la traite des esclaves documentée ainsi que la rétention culturelle en Haïti, mes ancêtres se trouvent en Afrique dans les temps modernes:
1. Angola
2. Bénin
3. Burkina Faso
4. Cameroun
5. Tchad
6. Congo (Congo-Brazzaville)
7. Guinée équatoriale
8. Gabon
9. Gambie
10. Ghana
11. Côte d'Ivoire
12. Libéria
13. Mali
14. Mozambique
15. Namibie
16. Niger
17. Nigéria
18. Sénégal
19. Afrique du Sud
20. Togo
21. Zaïre (République démocratique du Congo)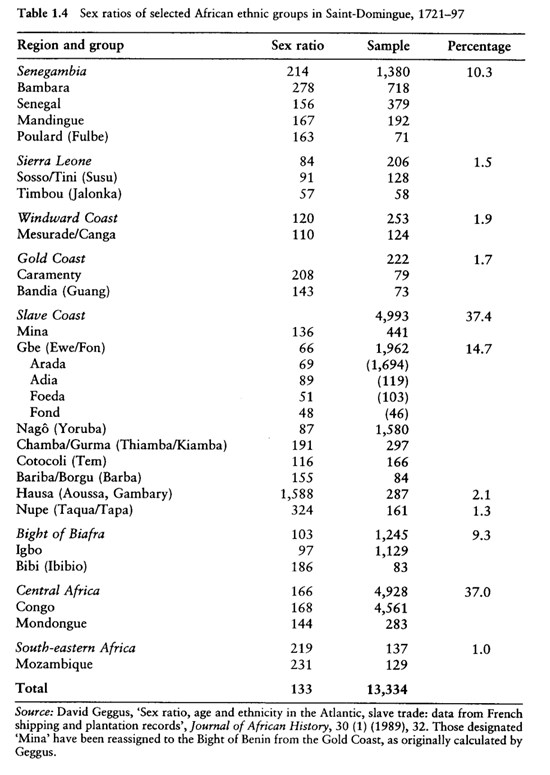 Donc, je veux lancer le tout premier American 888 Lucky Craft Beer Tours dans ces 21 pays d'Afrique.
Date du voyage : à déterminer
Lieu : à déterminer

En rétrospective, comme un enfant qui a grandit en Haïti, j'ai toujours été intrigué et fasciné par la culture chinoise et en particulier les films de Kung Fu.

Par conséquent, en février 2015, j'ai visité le beau pays de la Chine et a passé un mois à Chongqing. C'était un rêve qui s'est réalisé comme un film. Le peuple chinois était très sympathique et accueillant, à laisser une joie profonde et d'admiration dans mon cœur.

Après avoir fait l'expérience de la vie sociale et la tradition de cheers, "ganbei" ou 干杯 en Chine, à mon retour aux États-Unis d'Amérique (USA), j'étais inspiré pour démarrer une entreprise de la bière artisanale d'après une recette élaborée comme un homebrewer.
Le style de bière que j'ai développé est la version américaine de la British India Pale Ale ou IPA. Le style de l'IPA est connue pour son fort caractère, hop dates pour les années 1800 et est la plus forte croissance et la plus vendue de style craft beer in USA.
En mémoire de l'accueil chaleureux que j'ai reçu de la Chine et en suivant les traces de mes ancêtres, les "combattants de la Liberté" d'Haiti, j'aimerais offrir les toasts :
I. Premier Toast ou 干杯
M. Le Président, la Première Dame et le grand peuple du Congo, permettez-moi de vous offrir un premier toast ou 干杯 imaginaire de nos 888 Pilsner et 888 Lucky IPA en levant mon verre, mais beaucoup plus faible que l'ensemble de la vôtre à faire preuve de respect et vous souhaite bonne chance, la richesse et la prospérité.

II. Deuxième Toast ou 干杯
Ce sera un grand honneur de vous offrir personnellement un deuxième toast ou 干杯 lors de ma première visite au Congo afin de présenter le tout premier American 888 Lucky IPA et 888 bières artisanales de Pilsner.

III. Troisième Toast ou 干杯
Je propose une troisième toast au grand peuple du Congo parce que je suis certain que vous aimerez 888 Lucky IPA désignée meilleure bière de dégustation à Brooklyn, New York, USA et la 888 Pilsner dont la recette a remporté la médaille d'or au Maryland, aux États-Unis, la concurrence de la bière artisanale.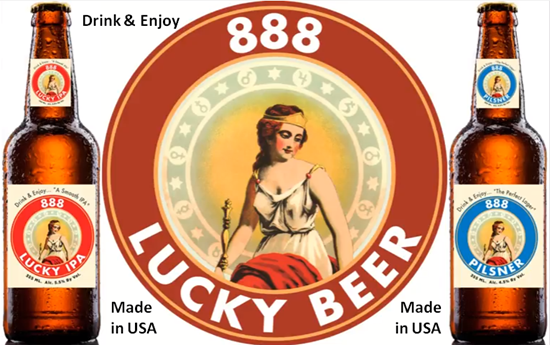 IV. Quatrième Toast ou 干杯
Selon un proverbe chinois: "l'audition d'une centaine de fois n'est pas aussi bon que de voir une seule fois."
Par conséquent, permettez-moi de vous offrir un dernier Toast ou 干杯, je vous souhaite une fois de plus, de nombreuses années de chance, de richesse et de prospérité ou 888. Pour en savoir plus, http://www.paugustin.com
Plus respectueusement,
Pierre Richard Augustin, MPA, MBA
President and CEO, AdMerk Corp. Inc.
Congo Brazzaville - Eating and sleeping
Eating and drinking
Congolese like their beer, and there is no shortage of it anywhere. In the DR Congo, Primus beer is a national institution and 750ml bottles can be bought cheaply at small bars and restaurants across the nation. Most towns have at least one small restaurant, often empty, but with food made to order on asking. Use common sense when presented with a menu – if you are nowhere near a river, ordering seafood would not be the best idea. Things like fridges and freezers may not exist, so seek out foods that will not spoil at room temperature if you decide on a prepared meal in any small town.
Because of the lack of refrigeration, non-perishable foods are most common outside the major cities. Several types of meat and fish can be found in cans, sitting idle on shelves for months or even years before you pick them up. Check their seals, make sure they have not been opened, and bring your own can opener. Biscuits with artificial flavours make good snacks, and are incredibly cheap – though still not cheap enough for most locals. Across the Congos there are some surprisingly awful 'glucose biscuits', made from several petroleum products and a small bit of wheat to give it that edible flavour. If you're truly short on cash these are a good option to keep your stomach from eating itself.
So what do the locals of Congo-Brazzaville eat, if not the well-sealed items in general stores? Manioc, bananas and sometimes large prawns. If you're on a road trip there will be plenty of opportunities to try these things, especially manioc – a staple food of the region, an otherwise bland-tasting plant that is sold as a small log wrapped in leaves.
Palm wine is the local beverage for those who cannot afford beer – it is the fermented sap of palm trees, and you'll see it loaded and unloaded amongst small villages in large plastic jerry cans. It has a taste of alcoholised coconut juice with a bit of a moonshine quality on account of its local production. Foreigners drinking it in social settings will no doubt be quite a sight to the locals, who are not used to seeing outsiders drink their beverage of choice. In fact, alcohol is far too easy to find amongst the small shops in Congo- Brazzaville. Strong beers in large, warm cans, and whiskies are available everywhere. If you enjoy drinking cheap liquor, you will have no problems in this country.
In the DR Congo the variety is wider – manioc and palm wine are still staples in the wilderness, but since the trade network is more comprehensive you'll be able to find Western foods more easily. In the large cities and towns, eg: Kinshasa, Lubumbashi, and even Goma and Kisangani, you'll have at least one or two decent restaurants where there should be no concern over the quality of your food.
Only in Kinshasa, Lubumbashi, Goma and Bukavu can you find truly international cuisine, and often at very high prices. The same rule goes for groceries in the DR Congo – if it doesn't keep for several months on the shelf, you probably won't find it in the smaller towns. Powdered milk is incredibly common across the country in lieu of fresh milk. On the positive side, fresh fruits are easy to find – oranges and bananas being the most common. The vegetable markets are often the best places for good, fresh food, and if you show up in a town on market day, you'll wonder how anyone could starve.
Along the roadsides in both countries any manner of fish, vegetable or meat is available as the locals will hold out random animal carcasses or the catch of the day as vehicles pass. I wouldn't trust these, as eating bushmeat can give you any number of problems. If you can get some local advice from someone you trust, it can introduce you to various meats and fish that you may not otherwise try. If you find something truly exotic being sold, again I would advise against it as endorsing the random killing of non-domesticated animals is something visitors should not do – wildlife populations are still quite fragile in both countries and this unregulated hunting should be discouraged.
Restaurant closing times, on the whole, tend to close around midnight.
Liquor in the Congos

While Primus is the alcoholic beverage of choice across both Congos there are numerous other good drinking products just waiting to be imbibed available from Bralima – the Congolese brewing company, named thus on either side of the river, although Primus from Congo-Brazzaville might taste slightly different from Primus in Congo-Kinshasa, or it may not. After another 750ml bottle, it becomes hard to tell – and since the vast majority of beers come in 750ml measures it's best to share or get used to consuming large quantities of liquor.
There are other great beers aside from Primus. Congo-Brazzaville's second brew is N'Gok, with a big green alligator on the label, and it's a lighter beer than Primus. Alcohol content is 0.5% more than Primus's 5%, and as usual, it's only available in 750ml bottles. The equivalent in the DR Congo is Skol, though this has a lighter alcohol content and is better if you have any plans for standing up after a few of them.
Darker beers are also popular. The heavy stuff is Turbo King, only available in the DR Congo. Advertisements galore call it 'a man's business', and indeed it is, with 6% alcohol and only available in 750ml bottles. A German-style beer is Doppel, again with 6% but with a much better taste in my opinion – it's an amber ale with a fruitier taste, a little more complex, and an ideal complement to a good meal.
Mützig is the only beer available that's sold in smaller bottles, and is a lighter German-style beer with only around 5% alcohol. Maltina is a non-alcoholic beer and is becoming increasingly popular with those who have to work the next morning.
Finally if you need the hard stuff it's available all too often in small plastic pouches for only a few cents. Whiskies, rums, vodkas and other cheap knock-off liquors are in abundance and perhaps they make life a little more bearable for those less fortunate, but these are definitely not for connoisseurs. However, if you're short on petrol, they may get you to the next town.
Accommodation
From a hut in a roadside village in the deepest tropical jungle to the sparkling Grand Hôtel in Kinshasa, your options are vast. In the DR Congo, most major towns will have one still-operating hotel from those old colonial days. It will undoubtedly be high on character and usually pricey – then again, it may be abandoned. Kinshasa has plenty of mid-range hotels but almost nothing at the lower end where a budget traveller can crash, and two places of international repute where all of those from the outside world are expected to spend their time: the Memling Hôtel and Grand Hôtel, which hover between US$160 and US$450 for a night. Value is not good for these high-end hotels – you are paying a premium for basic services that are taken for granted even in neighbouring countries.
Mid-range hotels offer little for your money in the DR Congo. Cold water or even no water, no private phone, and insecure rooms are what one can get for even US$50 per night. At the low end, anything is possible but most likely includes a bed and an oil lamp and the owner pointing you in the direction of a hole in the ground called the 'bathroom'.
By contrast, in Congo-Brazzaville the average quality of hotel rooms is good with running water, electricity, and reasonable prices that range from US$30 and top out at US$300 for the international chains in Brazzaville. Only at the highest end of places will you get hot running water; at the lower end in the cities, you will get cold running water and on the fringes of civilisation you may only get a bucket if you're lucky. Shared toilets, or no toilets at all, are common across small villages. Washing from a bucket by candlelight is still something that occurs in the remote stretches of the Congos.
Sleeping under the stars is inadvisable for security reasons; if you are short on cash, ask around in any given town where the cheapest bed is and you will no doubt find a place. Most bars and music clubs have a few rooms at the back for mere dollars a night on offer, if you can convince them to charge you the normal rate. These are usually intended for prostitution but will be rented out if you can make a case for it. If you are on a long road trip, you will no doubt be shepherded to a place deemed 'safe' by your roadmates and made to feel welcome. Make sure you secure the door against intrusion. Also enquire at local churches and missions – they often have some rooms available for travellers.
- See more at: http://www.bradtguides.com/destinations/africa/congo/eating-and-sleeping.html#sthash.460OE1y2.dpuf
AdMerk Corp. Inc. Headquarters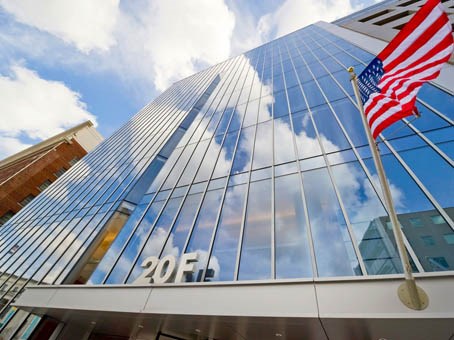 20 F Street N.W., 7th Floor, Washington DC 20001 USA (617) 202-8069
Google+
Google+