Chinese |

Francais / French |

Espagnol / Spanish |

Haitian Kreyol
Global Tours 2015 |
Global Tours 2016 |
Global Tours 2017
After many
👏
😀
👍successful and triumphant world
🌎 tours in
🇹🇼
🇨🇳
🇳🇱
🇬🇧
🇸🇪
🇩🇪
🇲🇽
🇯🇵 to promote the 888 Lucky Beer
🍻 of Washington DC, many people who are craft beers
🍻 lovers
❤️ around the world said: "888 is a beautiful beer and the best IPA craft beer ever".
🌎🌍🌏 | China
🇨🇳 Taiwan 🇹🇼 Japan 🇯🇵
🌎🌍🌏 | United Kingdom 🇬🇧 Sweden 🇸🇪 Germany 🇩🇪
🌎🌍🌏 | Haiti
🇭🇹 Mexico 🇲🇽 Venezuela 🇻🇪 Ecuador 🇪🇨 Bolivia 🇧🇴 Peru 🇵🇪 Colombia 🇨🇴 Costa Rica 🇨🇷
🌎🌍🌏 | Angola🇦🇴 Benin🇧🇯 BurkinaFaso🇧🇫 Cameroon🇨🇲 Chad🇹🇩 Congo Brazzaville🇨🇩EquatorialGuinea🇬🇳 Gabon🇬🇦 Gambia🇬🇲 Ghana🇬🇭Côte d'Ivoire/Ivory Coast🇨🇮 Liberia🇱🇷 Mali🇲🇱 Mozambique🇲🇿 Namibia🇳🇦 Niger🇳🇪 Nigeria🇳🇬 Senegal🇸🇳 SouthAfrica🇿🇦 Togo🇹🇬 Democratic Republic Congo🇨🇬
Great News! AdMerk Corp. Inc., the brands owner of 888 Lucky IPA, 888 Pilsner and 888 Stout, is approved as a global supplier to the famous Walmart market. Wal-Mart Stores, Inc., doing business as Walmart, is an American multinational retailing corporation that operates as a chain of hypermarkets, discount department stores, and grocery stores.
As of December 31, 2016, Walmart has 11,666 stores and clubs in 28 countries, under a total of 63 banners. The company operates under the name Walmart in the United States and Canada. It operates as Walmart de México y Centroamérica in Mexico and Central America, as Asda in the United Kingdom, as the Seiyu Group in Japan, and as Best Price in India. It has wholly owned operations in Argentina, Brazil, and Canada.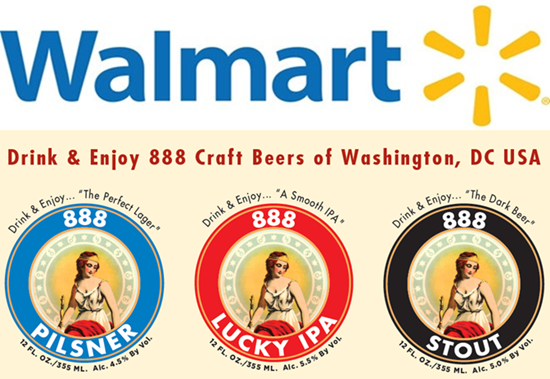 888 Lucky Beer Press Conference in Tokyo, Japan
888 Crafts Beers at Whole Foods in USA, Canada and UK Soon!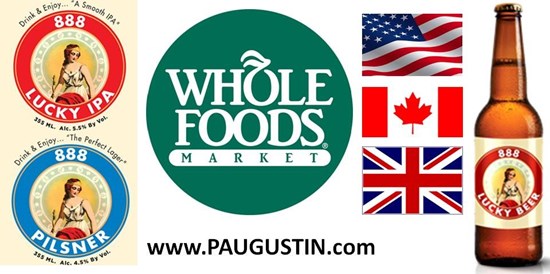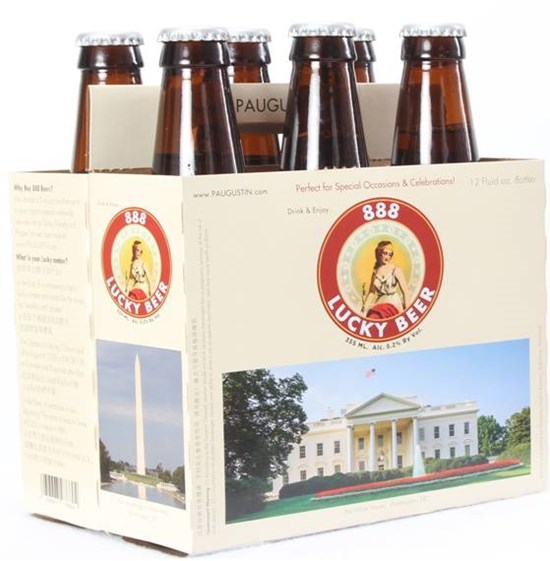 888 Craft Beers Global Tours for 2017
Craft Beer Rising - United Kingdom 🇬🇧 - February 23-25
CAMRA London Drinker Festival
United Kingdom 🇬🇧
March 7-9, 2017

Beijing Invitational Beer Festival
China 🇨🇳
March 9-12, 2017

Australia International Beer Awards
Australia 🇦🇺
April 2017

Barcelona Beer Festival
Spain 🇪🇸
March 24-26, 2017

Craft Brewers Conference DC
USA 🇺🇸

South Korea 🇰🇷
April 27-29, 2017

Paris event TBD
France 🇫🇷
2017

China Craft Beer Conference / Shanghai
China 🇨🇳
May 25-27, 2017

Vancouver Craft Beer Week
Canada 🇨🇦
June 2-4, 2017

Great British Beer Festival
UK 🇬🇧
August 8-12, 2017

Irish Craft Beer Festival
Ireland 🇮🇪
September 7-9, 2017

Drinktec
Germany 🇩🇪
September 11-15, 2017

Stockholm Beer & Whisky Festival
Sweden 🇸🇪
Sep 28-30/Oct 5-7, 2017

Great American Beer Festival Denver
USA 🇺🇸
October 5-7, 2017

European Beer Star Awards
Germany 🇩🇪

Brussels Beer Challenge
Belgium 🇧🇪
November 2017

CERVEZA Mexico 🇲🇽
November 3-5, 2017

American Craft Beer Experience
Japan 🇯🇵
TBD
888 Craft Beers Future Global Tours of Africa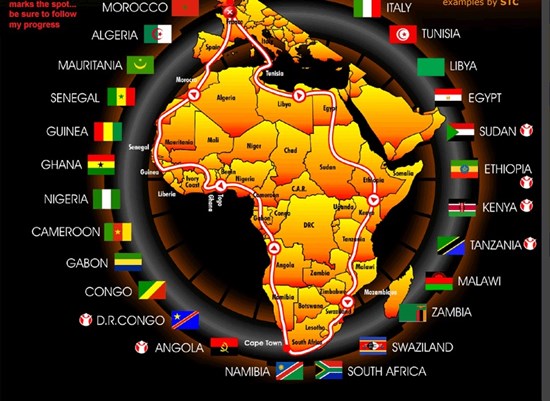 12th 888 Craft Beers Global Tours: Beijing, China - March 9-12, 2017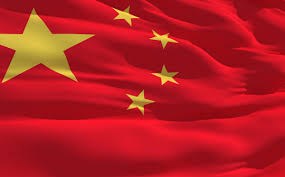 After successfully 👏😀👍 introducing 888 Lucky IPA 🍺to beers ❤️in 🇹🇼🇨🇳🇳🇱🇬🇧🇸🇪🇩🇪🇲🇽🇯🇵, 888 Crafts Beers from Washington DCwill be at the 2017 Beijing Invitational Craft Beer Festival that takes place on ‪March 9-12, 2017‬ at the TRB Copper a contemporary culture and destination, please check video 📹below ...
12th 888 Craft Beers Global Tours: Haiti 🇭🇹 & Dominican Republic 🇩🇴 - February 2017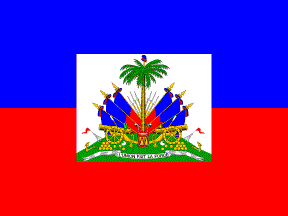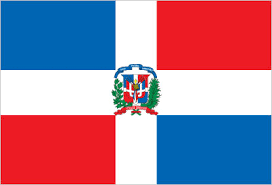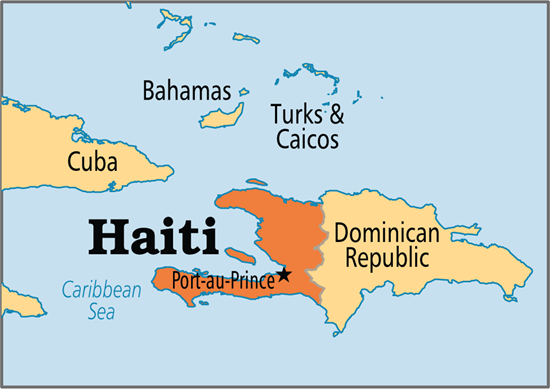 11th 888 Craft Beers Global Tours - North Miami, Florida USA
Sunday, January 29, 2017 (1 PM to 10 PM) Note: Due to circumstances beyond our control, 888 will not be at the event as previously planned. Please accept our apologies.
Floridian Craft Beers Lovers ... be the first to taste the 888 Crafts Beers of Washington DC USA!

When & Where:
Sunday, January 29th, 2017 (1pm to 10pm) at the streets of North Miami of 125th Streets, Between 6th and 12th ave.

Events Highlights
Popular Caribbean artists like Shaggy, Sweet Micky, T-Vice and Gabel will perform at the City of North Miami FREE annual festival with cultural food, music and dancing in the streets with the electrifying sounds of Cumbia, Compas, Reggae and Batucada filling the air while drinking and enjoying the 888 Crafts Beers of Washington DC USA.

888 Craft Beers of Washington DC
After many successful world tours and triumph with people who love craft beers, Be the first to drink and enjoy the 888 Craft beers that many people around the world said: "888 is a BEAUTIFUL beer and the best beer ever", http://www.paugustin.com/global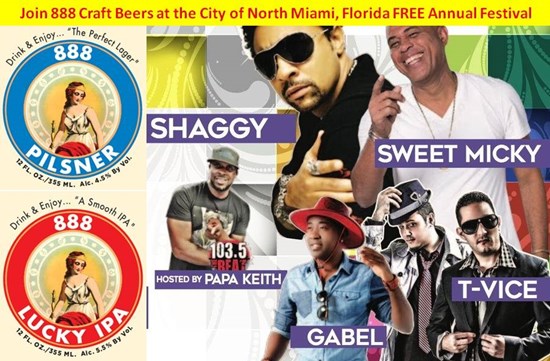 10th 888 Craft Beers Global Tours - Tokyo, Japan
American Craft Beer Experience in Tokyo (November 19-20)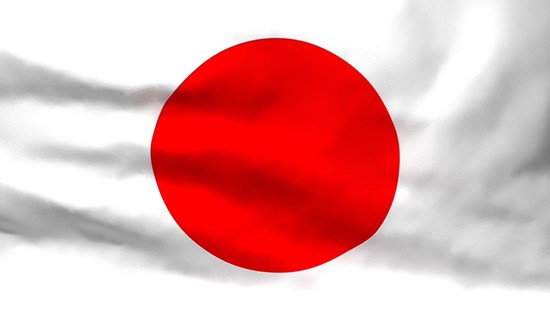 888 LUCKY IPA and 888 Pilsner will be available for sale at your local Whole Foods Markets in all 50 states of USA including Washington DC, and at Whole Foods Markets in Canada, London, England and within the United Kingdom in Europe.
9th 888 Craft Beers Global Tours - Nuremberg, Germany
Brau Beviale Nuremberg (November 8-10, 2016)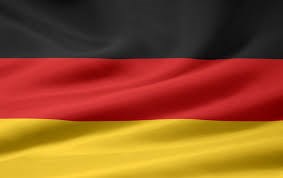 8th 888 Craft Beers Global Tours - Mexico City, Mexico
Expo Cerveza Mexico festival (November 3-5, 2016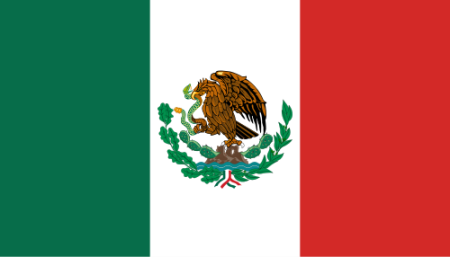 7th 888 Craft Beers Global Tours - Berlin, Germany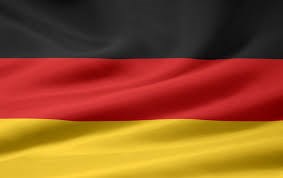 Bar Convent Berlin (October 11-12, 2016)
6th 888 Craft Beers Global Tours - Stockholm, Sweden
Stockholm Beer & Whisky Festival (Sep 29-Oct 1 & Oct 6-8, 2016)
888 IPA at Stockholm Sweden International Beer & Whisky Festival named the Best Beer by many Craftbeer Lovers in Attendance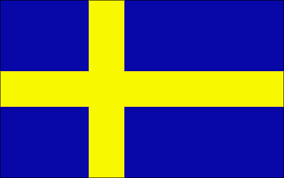 5th 888 Craft Beers Global Tours - London, England
Great British Beer Festival (August 9-13, 2016)
888 Lucky IPA at London England and Craft beer Lovers said the Beer was Nice & Refreshing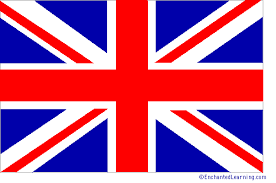 2015
4th 888 Craft Beers Global Tours in Bound Mission with Importers of Costa Rica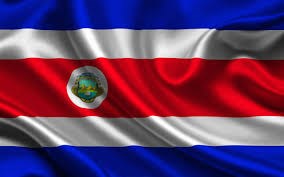 3rd 888 Craft Beers Global Tours - Chongqing, China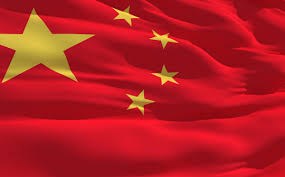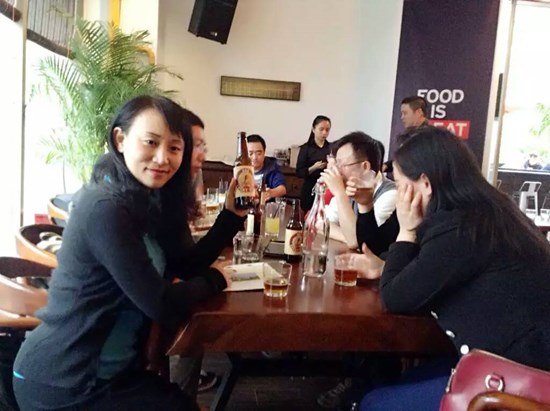 Chongqing, China
2nd 888 Craft Beers Global Tours - Shanghai, China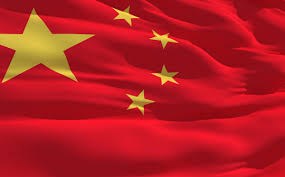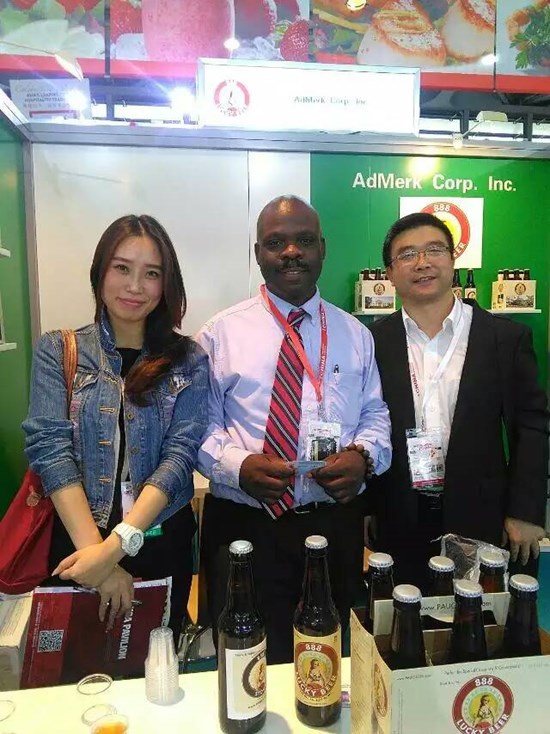 Shanghai, China
1st 888 Craft Beers Global Tours - Taipei, Taiwan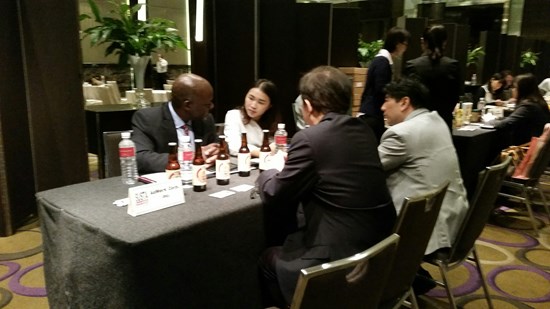 Taipei, Taiwan
888 Lucky IPA at Annapolis MD USA Craft Beer & Music Festival named the 'Best Beer' by Craft beers Lovers in Attendance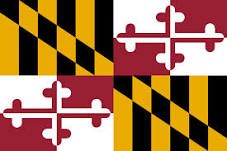 Official Launch of 888 Lucky IPA in Brooklyn, New York City, USA
888 Lucky IPA at Brooklyn New York USA named the 'Best Beer' by Craftbeer Lovers in Attendance