888 Craft Beers: 🇨🇳 Chinese | 🇫🇷 Francais | 🇪🇸 Espagnol | 🇭🇹 Haitian Kreyol
AdMerk Micro Finance: 🇺🇸🇬🇧 English | 🇫🇷 Francais | 🇭🇹 Haiti | 🇪🇸 Espagnol | 🇧🇷 Brazil
AdMerk Villa: 🇭🇹🇫🇷 Francais | 🇺🇸🇬🇧 English | 🇪🇸 Espagnol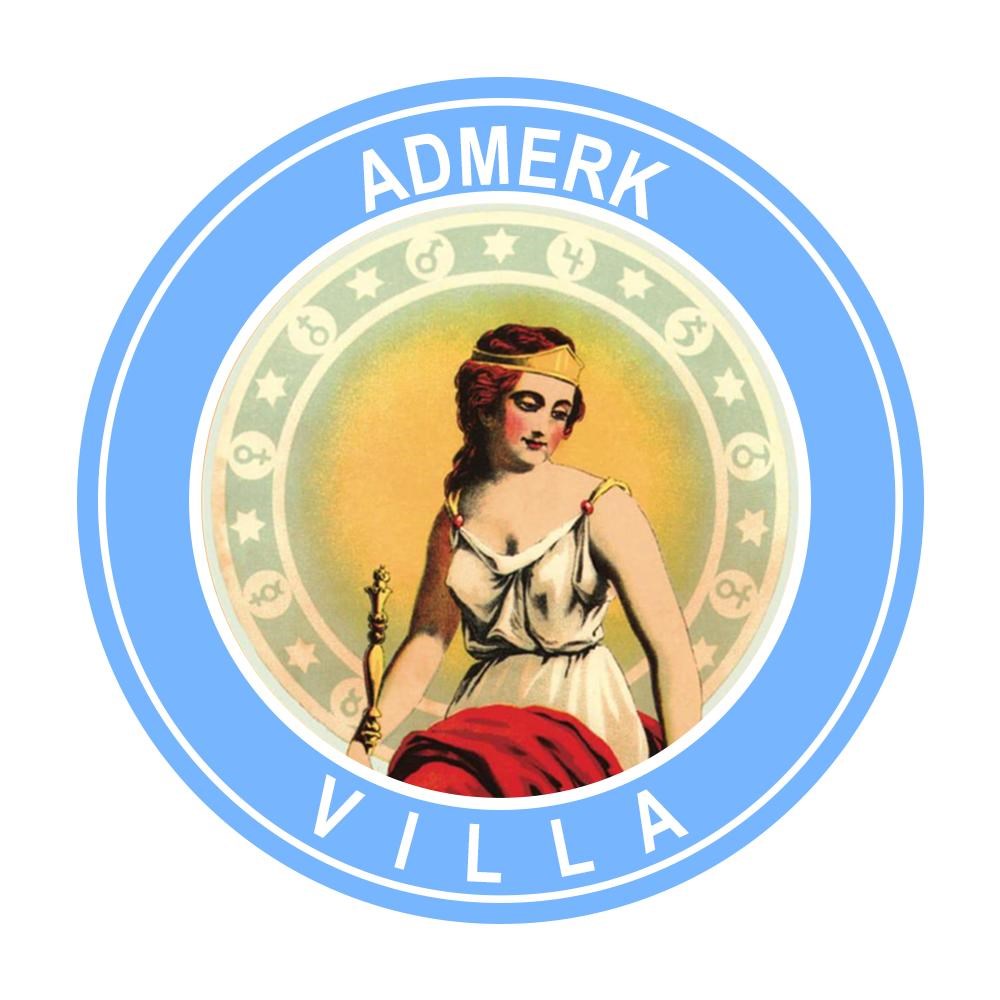 Appliquer Pour Chef de Cuisine/Serveurs/Serveuses/Ménagère/Chauffeur a Admerk Villa
Une villa est une élégante maison de vacances. Le mot existe depuis les temps romains antiques pour signifier «maison a la campagne pour les gens d'upper class».
Admerk Villa au Cameroun, Afrique Bientot!
Pour vous, les voyageurs sophistiqués qui exigent une expérience royale ou veulent célébrer un événement très mémorable de votre vie ...
Venez déguster la plus délicieuse cuisine créole, la sentir, l'écouter grésiller dans la poêle, la dévorer avec vos yeux et la toucher au pays des montagnes anciennement surnommée "la Perle des Antilles ou la Perle des Caraïbes" et, autrefois, la colonie la plus riche de la France au XVIIIe siècle.
Alors, vous pouvez ajouter un chef-d'œuvre exceptionnel à votre collection d'art qui sont authentiques et distinctifs de renommée qui ont reçu des éloges du monde entier.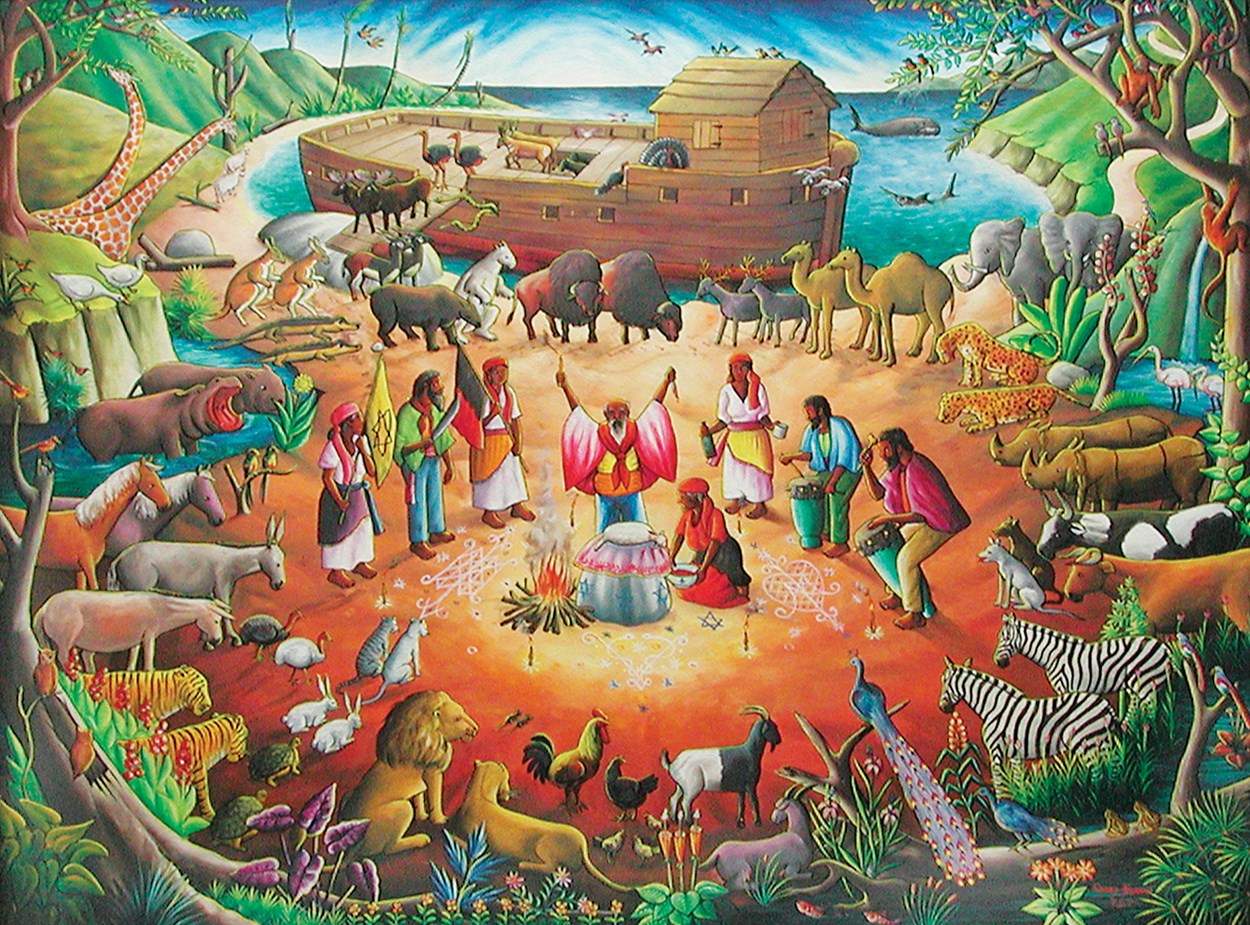 Pour vous assurer d'obtenir le plus haut niveau de soins, exclusivement, un chef privé, serveur ou serveuse, ménagère, chauffeur avec service de voiture, agent de sécurité, concierge et un docteur pour urgence seront à votre disposition 24h / 24.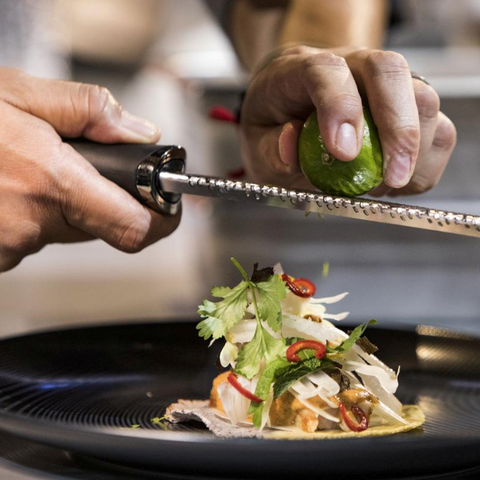 Pour les couples amoureux, venez célébrer votre cérémonie de mariage et lune de miel dans l'une des villas exclusive d'AdMerk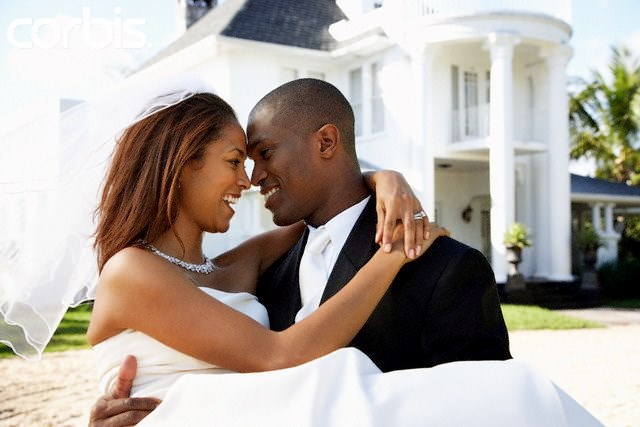 Pour réserver l'une des villas de luxe exclusives AdMerk, appelez-nous sur Whatsapp au 617-202-8069.
AdMerk Villa ... La référence!
Sincerement,
Pierre Richard Augustin, MPA, MBA, President and CEO
AdMerk Cell Phone and WhatsApp: 617-202-8069, Email: [email protected]
Executive Team
1. Pierre Richard Augustin, MPA, MBA
2. Briget Ngampa, Vice President
3. Michele Gaskins, Real Estate Portfolio Asset Manager
1. Board of Directors: Michael Obiahu Chumekwua, MBA
2. Advisory Board
3. International Accounting Firm
4. International Law Firm
5. USA Brokerage Firm: TD Ameritrade Financial Services
Caribbean Creole Cuisine
The flavors of various cultures inspire Haitian cuisine. Primarily, it features flavors from Spanish, African, Taino, and Latin Caribbean foods. The local base of flavors is referred to as epis, and it is a part of many local dishes. The national dish of Haiti is diri ak pwa (rice and beans).
...
As with the country's language, Haitian food has a sense of the Creole, that is a blend of influences. Mixed roots and spices, basic yet zippy, simple and grounded by the reality of the tropics and the back-story of its African heritage, yet touched with a hint of French complexity.
Black mushrooms, spices, bergamot, and more at the Marché en Fer in Port-au-Prince.
Take pikliz (spicy pickled vegetables), breadfruit, bergamot, watercress and even rum-infused power shakes. Throw in Haitian hot chocolate, grilled lobster, plenty of beans, avocados and a dash of hot pepper and you have an eclectic mix that took some sampling and digging to suss out not only the depth of Haitian table, but more importantly the underlying essence and nature of Haitian cuisine.
Now let's dig in. Bon apeti!
Haitian Main Dishes
Food offers one of the most enjoyable contexts through which to understand a place. As we seek out certain types of dishes, we find ourselves in new experiences of all sorts.
What you'll find below is an overview of all that we ate and discovered culinarily while in Haiti.
Poulet Aux Noix (chicken and cashew nuts)
A rich northern Haiti specialty of chicken cooked in a tomato-based sauce with cashew nuts.
Mayi Moulen ak Sòs Pwa, Poul an Sòs (cornmeal with beans and stewed chicken)
Stews are common in Haiti. Served on top of either cornmeal or rice, they are hearty, too. What makes Haitian stews special is the hint of warm sweet spices like clove and star anise.
Griyo (fried pork)
For meat-eaters, griyo is an absolute must-try traditional dish of Haiti. It is most often served with cabbage salad or better yet, spicy pikliz (onions and other vegetables marinated in a spicy vinegar sauce). Perfect to share and enjoy with friends.
Lanbi an Sòs Lanbi Kreyol (conch in creole sauce)
Of all the fruits of the sea you can find in Haiti, conch seems to be among the most distinct to appear on restaurant menus. You can usually find it grilled (see below) or in a tomato-based creole sauce. Conch is a must-try if seafood is your thing.
Lanbi Boukannen, Woma Boukannen (grilled conch, grilled lobster)
As seafood lovers, we did a happy dance in Haiti for the availability and freshness of grilled lobster and conch.
Tassot/Taso (dried fried meat)
Tassot is spiced, dried meat that is then fried. You may also have seen this in Mexico or Latin American countries as well, as tasajo. In Haiti, you'll most often find Tassot Kabrit (goat) or Tassot Vyann (beef) sided with fried plantains. The description defies its tastiness. Where to get it: This was another favorite dish at Lakou Lakay Cultural Center in Milot.
Mayi Moulen Kole ak Zepina (cornmeal with Spinach)
Mayi Moulen is a warm, hearty, comfort food that is typically served with a slice of avocado and goes great with sos pwa and aransò
Diri blan ak Lalo (White rice with Lalo and crab)
A stew of crab and dark-green spinach-like lalo leaves. Rich and hearty.
Chicken with Okra and Djon-Djon
Chicken with Okra and Djon-Djon, another typical Haitian dish that can be prepared with either regular or Maggi cubes Djon-Djon. Djon-Djon is a type of mushroom cultivated only in Haiti, processed, and sold dried. This is a sort of Louisiana-style gumbo made with okra and mushrooms, sometimes served with a kick of chili peppers.
Pwason Boukannen (grilled fish)
Haitian Sides, Starches and Condiments
Besides all the meat and seafood, rice, beans and tropical starches rule the table in Haiti. Note that fritay (fried foods) are often paired with spice and vinegar blends like pikliz (see below) to balance what goes into the digestive system.
Pikliz (picklese)
Pikliz, is a combination of spicy, pickled vegetables that every Haitian home has on hand. Carrots, cabbage, chillies and other vegetables are soaked in vinegar creating a relish similar to what Americans refer to as chow-chow. This crunchy salad is served as a side dish in Haitian meals.
Diri Kole or Diri ak Pois (rice and beans)
Needless to say rice and beans are a staple in the Caribbean. A meal is not a meal unless there is a side of rice and beans. Haitian rice and beans can be made with a variety of beans, but the most popular are Pinto, red kidney beans, and black beans.
Diri Blan ak Sos Pwa Noir (white rice and black bean sauce)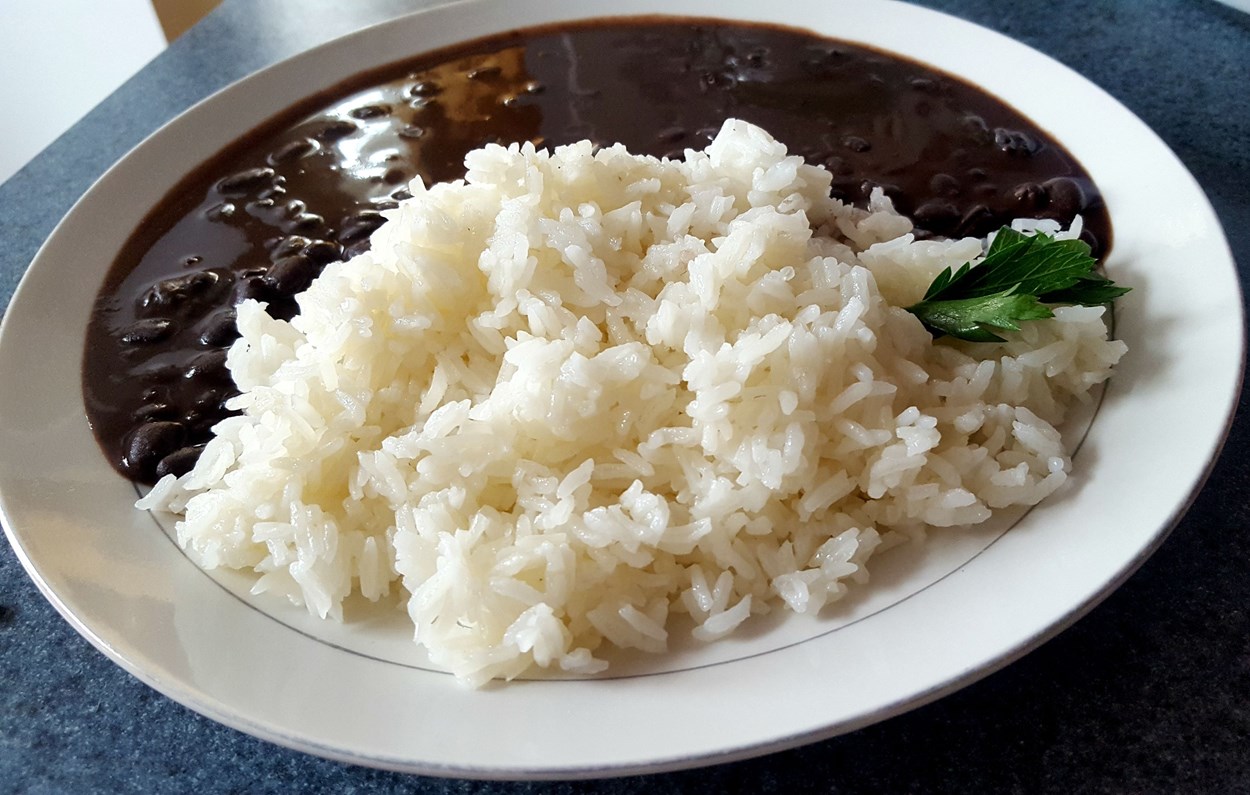 White rice cooked with beans or served with a bean sauce is very common throughout Haiti. Another variation of this includes Diri Blan ak Sos Pwa Noir (white rice and black bean sauce) or rice with a white bean sauce.
Diri Djon Djon (rice with black mushrooms)
While white rice is usually served with a bean sauce topping (see above), diri djon djon is usually served on its own because of the distinct aroma and rich flavor of the jhon jhon mushroom.
Bannann (Plantains), Fried or Boiled
The most common approach to the ubiquitous Haitian plantain: fried plantains (bannann peze), which are often sided with any of the main meals mentioned above and are also delicious topped with a heaping spoonful of pikliz.
Lam Veritab Fri (Fried breadfruit)
Definitely worth seeking out. Sometimes you'll find fried breadfruit mixed together on a plate with fried plantains. The first time this happens, you'll say, "Man, I didn't know plantains could be so good." That, my friend, is breadfruit. The consistency is richer and more distinct than a plantain, and the taste is quite different almost bordering on a starchy version of jackfruit. Good thing is: breadfruit is widely available; it probably ought to be consumed even more than rice given how prevalent it is in the country.
Avocado
When in season, avocado is plentiful and tasty. Get your fill, particularly as a side to various meat dishes and grilled seafoods. Pairs beautifully with a nice, tart pikliz.
Watercress
Haitian Soups
Soup Joumou (pumpkin/squash soup)
Pumpkins and squash are quite common throughout Haiti. You may find pumpkin and squash soup on its own or — you guessed it — stewing in a pot of goat meat and other vegetables.
Bouyon Tèt Kabrit (goat head bouillon)
A hearty favorite and it's much tastier than it sounds.
Breakfast in Haiti
Travelers in Haiti can find breakfasts with the usual suspects such as eggs, toast or cereal in hotels. However, if you wish to breakfast like a local, here's what you might eat.
Pwason Seche ak Bannann (dried fish and boiled plantains)
Fwa Di ak Bannann (beef liver with plantains)
Haitian beef liver are tasty. With this breakfast you likely will not need to eat until dinner — the following day.
Spaghetti
Spaghetti for breakfast in Haiti? Yes, spaghetti, the breakfast of Haitian champions. It makes sense when you consider the importance of starting one's day with a hearty breakfast. For more on how this tradition came to be, read this article.
Haitian Power Shakes
Jus Blennde (blended shake)
Jus blennde is a staple of the Port-au-Prince night street food scene. These shakes are essentially meal replacements so that people can eat something hearty, but perhaps not as heavy as meat, at night. The version I enjoyed (endured?) was made from approximately 15 ingredients including boiled potato, carrot, manioc (cassava), and breadfruit; banana, papaya, peanuts, sugar, vanilla and almond extracts, evaporated milk, ice, rum and a wedge of la vache qui rit cream cheese for good measure. If Popeye came from Haiti, this is what he would eat before he kicked ass.
Spaghetti Shakes
Yes, you read that correctly. I could not bring myself to try it, but the idea is apparently a filling, easily digested liquid dinner, based on blending wet spaghetti, tomato flavoring and other goodies. The Godfather is turning over in his grave. Or is that his stomach turning?
Phoscao
A ground corn and cocoa shake specialty hailing from the seaside Haitian town of Les Cayes. Rich, sweet and heavy enough to keep you full for the whole day.
Haitian Desserts and Snacks
Haitians have a sweet tooth, no two ways about it. It's not surprising considering the country's wide production of sugar cane. Here are a few of our favorite desserts and treats that are found across the island.
Mamba (peanut butter)
Haitian peanut butter is all natural. It's also a revelation. Northern varieties are purportedly six-times blended while those in the south are less smooth at four-times blended. What really sets apart Haitian peanut butter: spice. Yes, spicy peanut butter. You heard me right.
Spicy peanut butter varieties are made when ground peanuts are turned with a scotch bonnet or habanero pepper. After one taste of this, you'll never look at the possibilities of peanut butter quite the same.
Dous Makos (Haitian fudge)
Native to the Haitian town of Petit-Goave, dous makos production looks a kind of taffy production where milk and sugar are boiled in log-fired cauldrons. The signature look of dous makos: the three stripes, beige, brown and pink.
Kasav (cassava bread)
In Haiti, cassava bread is less moist like bread and more dry like a cracker. The version we bought were stuffed with a not-so-sweet chocolate and paired with Haitian peanut butter. Cassava bread is an acquired taste and one that you come to acquire much faster when you are famished after hiking several miles in the hills.
Tablèt Nwa (cashew ginger brittle)
Just like it sounds, where cashews and sugar cane are turned with ginger for a zip.
Pain Patate (sweet potato cake)
If you come across sweet potato cake, give it a shot as it's made with sweet potatoes, bananas and spices like cinnamon, nutmeg, and vanilla.
Haitian Drinks
Chokola Peyi (Haitian hot chocolate)
Haitian hot chocolate production begins by shaving a ball of pure chocolate with a Haitian grater — that is, against the holed and hollowed out side of a tomato can. Then simmer cinnamon sticks, star anise, nutmeg and fèy bwadin leaves in water (we've been told that whole nutmeg or mace is good as well). Add your ground chocolate, some sugar, some vanilla essence a tiny pinch of salt, and thicken it with some evaporated milk (don't skimp on this). Shave some of the rind of a green bergamot (a shriveled, pungent lime-like citrus fruit) for the final touch. Voilà! Not your average hot chocolate.
Coffee
The history of coffee in Haiti, including its near disappearance as an industry, is a shame. Haitian coffee is quite good and in terms of flavor, its Arabica beans can hold their own against competing Central American and African counterparts. Of the major brands available in supermarkets, check out Rebo or better yet, Selecto.
Rum
Given the prevalence of sugar cane in Haiti, it probably comes as no surprise that rum is the national spirit of choice. Although Haiti makes several types of rum, Barbancourt is the national standard dark rum that is available in a number of grades — most notably 3-star, a perfectly drinkable 4-year aged or 5-star, a perfectly smooth one-part spicy, another-part sweet 8-year aged.
And it's no surprise that rum cocktails are everywhere you go in Haiti. Although rum juice punch is everywhere, our favorite is a rum sour with lime juice, sugar syrup, a dash of bitters or cinnamon, lemon or orange rind and often a cherry.
Kleren / Klerin
An unrefined spirit similar to white rum, kleren is distilled from cane sugar.
Prestige Beer
No trip to Haiti would be complete without drinking a cold Prestige on the beach. Prestige, a relatively heavy American-style lager, is the ubiquitous Haitian beer of choice.
Sources: Excerpt from the article entitled Haitian Food: From Pwason to Pikliz, January 5, 2020 by Daniel Noll.